Grandmother's New Smile
She (and her grandkids) love her new smile.
Trauma Repaired!
Restored with Porcelain Bridge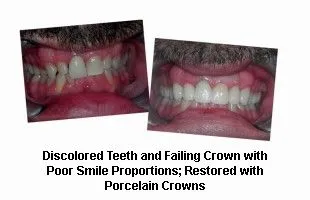 Discolored Teeth and Failing Crowns
Restored with Porcelain Crowns
Missing Tooth and Poor Alignment
Corrected with porcelain crowns and veneers
Traumatic Tooth Fracture
Restored with a porcelain crown
Severly Worn Enamel
Restored with full arch of porcelain veneers and crowns
Misaligned Teeth and Worn Enamel
Restored with upper and lower porcelain veneers
Missing Teeth with Worn and Fractured Enamel
Restored with porcelain crowns and bridgework.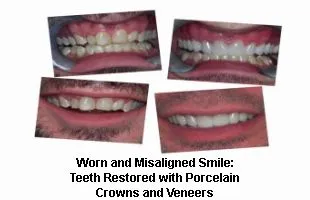 Worn and Misaligned Smile
Restored with porcelain crowns and veneers
Chipped and Decayed Teeth
Restored with Porcelain Crowns and Veneers
Failing Composite Veneers
Restored with Porcelain Veneers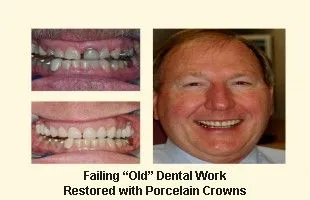 Failing "Old" Dental Work
Restored with Porcelain Crowns
Traumatic Tooth Loss
Restored with Fixed Porcelain Bridgework
Flared and Fractured Teeth
Restored with Endodontics & Porcelain Crowns
Fractured and Decayed Teeth
Restored with Porcelain Crowns
Discolored Teeth and Old Failing Crowns
Restored with Porcelain Crowns and Bridge
Crowding and Misaligned Teeth
Smile Improvement with Orthodontic Appliances
Crowned and Misaligned Teeth
Smile Improved with Invisalign Orthodontics